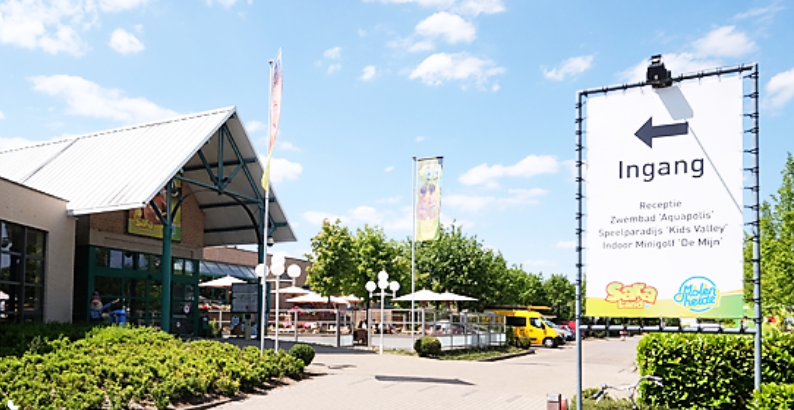 Your first visit to Park Molenheide? Then you surely must be curious as to what we have to offer. And that's quite a lot, even if we say so
ourselves. For children's dreams come true at Park Molenheide. Children can play indoors for hours on end, swim in the swimming pool with 4 spectacular slides, or play a game of golf on the exciting mini golf course. Most of our facilities are covered, so rain will not be a spoilsport.
However, Park Molenheide is more than just child-friendly. It is situation in the middle of Belgian nature, all bungalows are detached, and the park is at driving distance from all popular Belgian amusement parks. Come and discover why Park Molenheide is a special location for all the family...
Volop faciliteiten voor een zorgeloze vakantie
Park Molenheid is a large bungalow park with detached bungalows in the middle of Belgian nature The bungalows meet the highest quality standards. Park Molenheide has been rated with 5 stars by the province of Limburg. In addition, Park Molenheide has many child-friendly facilities.
5 stars holidaypark rating
Indoor playground (7.500m2)
Swimming paradise with 4 slides
(free) WiFi in bungalows and mainbuildings
Fantastische daguitstapjes in de omgeving voor kinderen (en ouders)!
1.
Plopsa indoor Hasselt
at about 20 minutes drive..
Plopsa indoor Hasselt is an indoor theme park aimed at children. The amusement park is 9,000 m2 big.
2.
Bobbejaanland Lichtaart
at about 40 minutes drive..
Bobbejaanland is an amusement park in Lichtaart, it has a total of 50 different attractions including 7 roller coasters!
3.
Olmense Zoo
at about 45 minutes drive..
The Olmense Zoo specializes in felines. You will find African lions, Siberian tigers and Bengal tigers.
4.
Walibi Belgium
at about 60 minutes drive..
The amusement park of Belgium! Walibi for the real amusement park fan.
Booking your holiday at Molenheide is simple!