Update 25 06 21: Yes Park Molenheide is located in the green zone!
No obligation to submit a negative test on arrival or return
No obligation to quarantine on arrival or return
No first or second vaccination required
Official ECDC-map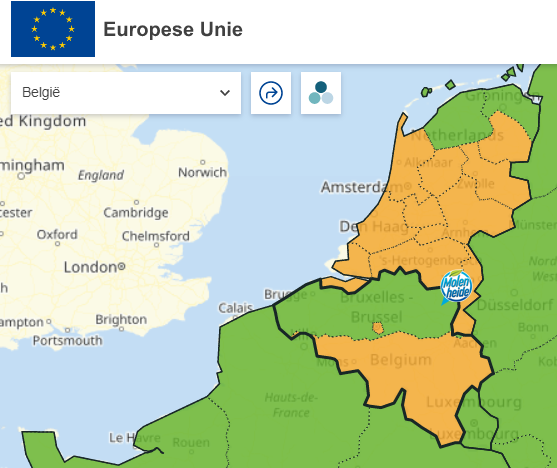 All facilities are open!
Large indoor playground (7,500m²) Free included in your holiday
Swimming paradise with all 4 swimming pools & slides Free included in your holiday
Magical Park Shows with Sara de Grasshopper Free included in your holiday
Indoor mini golf De Mijn with 18 holes
Family VR, a family-friendly unique Virtual Reality experience
Pirate bowling on a real pirate ship
In addition, you can dine again with up to 8 people at one table both inside and outside in our catering facilities
Staying at Park Molenheide
Holidays in large holiday homes are possible with more than 2 families. You can therefore perfectly stay in our large types Octo, Patio for 8 people and Beta and Patio+ for 10 people.
Each holiday home is detached and has a private parking space directly at the accommodation. In addition, you always have a (covered) terrace
Additional measures
The animation team welcomes you again with a full offer from 01 07 21
We work with a standard per location, so that the number of people is always appropriate for everyone's safety.
Accommodation
When cleaning the accommodation, our employees will disinfect all high-touch areas and will clean the bungalows to an even higher standard than before so that we can guarantee your safety.
Wegens groot succes verlengd: De Magische Parkshow mét Sara de Sprinkhaan die samen met Jo de Ryck, bekend van TV, acts van wereldniveau toont. Zo zullen dozen plots gaan zweven en worden assistentes doorgezaagd, dit allemaal met de beste kidsgoochelaars uit het publiek.
Bekijk de Magische Parkshow video.
Iedere donderdag- en zaterdagavond in juli & augustus. Gratis toegang voor alle vakantiegasten!
Recent werd Park Molenheide in Nederland verkozen tot 'Beste vakantiepark van België'. Deze prijs werd ons toegekend dankzij onder andere onze kwalitatieve vakantiewoningen, de kindvriendelijke faciliteiten beoordeeld met 9,1, het duuzaambeleid waarbij jullie hele vakantie voor de volle 100% met groene energie voorzien wordt, ...
Ontdek Park Molenheide komende zomervakantie!
Uren speelplezier in de grootste binnenspeeltuin van de Benelux of liever van de glijbanen scheuren in het overdekte zwemparadijs? Op Park Molenheide vervelen je kinderen zich nooit! In onze faciliteiten is reserveren en/of werken met tijdssloten, niet nodig.
Onbeperkt toegang tot het zwemparadijs & de binnenspeeltuin tijdens jullie vakantie!
Booking your holiday at Molenheide is simple!